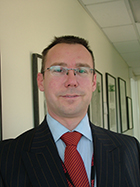 How to contact Mr Marshall:
If you would like to arrange a consultation with Mr Marshall,
it is best to consult with your GP first to discuss your needs.
Appointments may be made within the NHS or private sector:
Mr Nicholas Marshall is able to be contacted by clicking on either of the above links, or using the form provided below:
Please fill out this form.
I will contact you shortly.
---
---
Please note that Mr Marshall is not able to offer clinical advice or opinions on specific conditions without consultation.
Advanced Laparoscopic Surgery Techniques by Nicholas Marshall