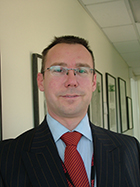 Good evening. It is Thursday 9:44 pm
Welcome to the website of Mr Nicholas Marshall
The information contained within these pages is designed to facilitate
the search for information, by offering not only opinions but sources for
additional investigation.
Laparoscopic surgery has developed as a technique for performing surgery
because it has several distinct advantages over the previous technique of
"open surgery".
Advantages:
Recovery time
Pain experienced
Hospitalisation
Complications
Cosmesis
Almost all abdominal procedures can now be performed by a skilled laparoscopic surgeon using this technique.
It should not be surprising therefore that more and more patients are requesting and receiving their surgery by this technique when offered the choice.
This website has been developed to inform patients about the techniques involved in laparoscopic surgery, allowing them to make informed decisions regarding their treatment.