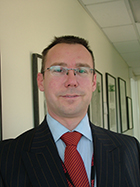 How to contact Mr Marshall:
Address:
Mr Nicholas Marshall
Department of Surgery
Newham University Hospital
Glen Road
London
E13 8SL
Secretary:
Tel: (020) 7363 9346
Fax: (020) 7363 9346
Email:
nicholas.marshall@newhamhealth.nhs.uk
Referral:
Mr Nicholas Marshall is able to be contacted by the above methods, or using the form provided below:
Please fill out this form.
I will contact you shortly.
---
---
Please note that Mr Marshall is not able to offer clinical advice or opinions on specific conditions without consultation.
Advanced Laparoscopic Surgery Techniques by Nicholas Marshall